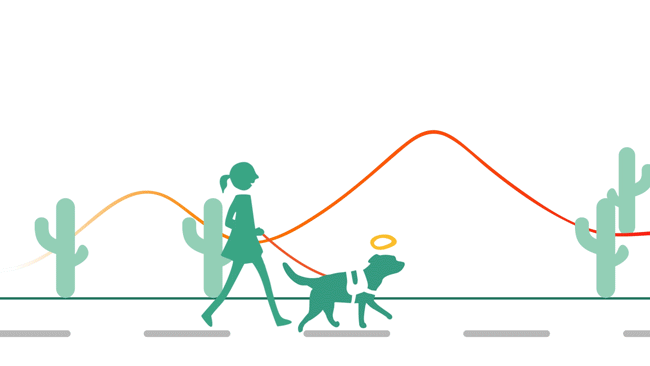 Let me teach you how to have the best behaved dog possible!
The majority of dog trainers use outdated methods relying on intimidation, force and conditional rewards.
Scientific research has now proven that the traditional dog training obedience methods are less effective than methods involving the unconditional provision of choice, what dogs need and consistent benevolent leadership.
Dogs' cognition, emotions and ability to learn is not dissimilar to that of a 3yr old child. Science has shown us that if we teach dogs in the same way as we teach children the dogs make faster and more successful progress than when we use the traditional methods involving force, bribery and coercion.
This, in turn, leads to dogs being confident, educated and able to control their behavior by themselves rather than being trained to obey commands.
My approach is based on teaching pet parents how to build a solid bond with their dog based on trust - forging a deep relationship with these wonderful animals. Following this protocol results in dogs who are happier, more confident and safer to be around.
Don't take my word for it! Check out our Testimonials!
Be Kind to Dogs is pleased to offer one-on-one dog training. I not only offer training in Chandler, AZ but also the surrounding areas such as Gilbert, Mesa, Tempe and Scottsdale, just to name a few.
Less stressful vet visits, overcome pet sitting and dog walking unique challenges, get more referrals and retain your clients!
Much behavior can be addressed by telephone - either instead of, or in addition to, an in-home visit. Some of my clients are out of state or even in other countries completely.
The best thing you can ever do when getting a puppy is have a consultation with me a few weeks before the puppy arrives.
The best thing you can ever do when expecting a baby is to have a consultation with me a few weeks before the baby arrives.
How would you like your best friend to be in your wedding? Imagine how great it could be to have all your precious family members at the wedding.
Ready to find out more?
Drop Kathrine a line or call today to learn how to succeed with your pet's training! Experience truly force-free training that builds the bond between you and your pet in a positive way!
Kathrine Breeden is the owner and operator of Be Kind to Dogs force free dog training business. She is a member of Truly Dog Friendly. Force free relationship and trust-based dog obedience training, in home dog training, dog training tips, dog training tools and is a professional dog trainer. Prepare for a new puppy, train your puppy, how to train your dog and prepare a resident dog prepare for a new baby. Some of the services she offers include, but aren't limited to, In-Home Dog Training, Off-Site Dog Training, Pre-Puppy Preparation, Behavior Training, Phone behavior and training consultations, training freebies through her Facebook group, Open House lectures, "Ask the Trainer" lectures, force free training and much, much more. Kathrine is a force free trainer and behavior consultant that is a member of the No Shock Collar coalition. Her philosophy is that Force Free & Positive training results in a dog that follows an owner because it wants to, rather than following out of fear. Truly Dog Friendly, Arizona Pet Professionals, Best Friends Animal Society and is proactive in animal rights campaigns. Dog behavior training, how to train your dog or how to train your puppy in a gentle, positive reinforcement force-free way, or need dog training advice through a consultation, please contact a professional dog trainer, Kathrine Breeden, for dog training dog trainer in Ahwatukee, AZ, Chandler, AZ, Gilbert, AZ, Mesa, AZ, Tempe, AZ and surrounding Arizona areas. Dog Training, Dog Trainer, Dog Bites, Dog Peeing, Aggressive Dog, Dog Barking, Dog Videos, Dog Events, Dog Wedding, Dog Friend, Best Dog Trainer, Award Winning Dog Trainer, Dog Trainer in 85286, 85224, 85225, 85226, 85244, 85246, 85248, 85249, 85286, 85233, 85234, 85295, 85296, 85297, 85298, 85299, 85140, 85143, 85142, 85280, 85281, 85282, 85283, 85284, 85285, 85287, 85201, 85202, 85203, 85204, 85205, 85206, 85207, 85208, 85209, 85210, 85211, 85212, 85213, 85214, 85215, 85216, 85274, 85275, 85277, 85250, 85251, 85252, 85254, 85255, 85256, 85257, 85258, 85259, 85260, 85261, 85262, 85266, 85267, 85271, 85118, 85253